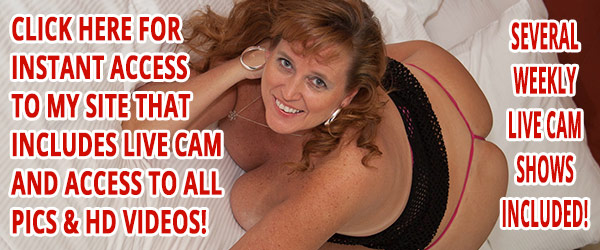 Double Bonus Update with Selfie's and 4k Video Selfie!
Ok guys, since we are all so locked up, I was feeling a little extra horny and I am giving you a double bonus update this week.
First, I have video I recorded as selfie a while back with a selfie update and there is funny story behind it. I went to use my "finger vibrator" and the damn thing broke and would not work. I ended up improvising and removed the fingertip portion of the vibrator and slipped right on my finger and damn did it work well. I really got off good using this thing on my finger. I do lots of dirty talking and verbal fantasizing about you being deep in my pussy as I dream of you hard cock.
Second, there is brand new set of Selfies I just took on Friday April 10th and I wore a really tight dress with pantyhose and heels. You guys always make me feel so sexy in when I wear pantyhose because of all the wonderful compliments you give me. I just imagine us together with me wearing nylon and it is always so erotic.
CLICK HERE for this double bonus update with me in nylon and very special cum encouragement 4k video!